Don't Miss The Signs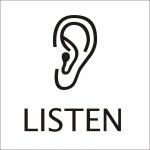 As I was thinking about what to write about this morning, I was going through the BBC website and read a report on the suicide of Sally Brampton, the agony aunt who had lost her battle with suicide by killing herself in May of this year. The Coroner had determined that the heath services had missed opportunities to assist her. Particular note was made regarding her GP and private Psychiatrist. It goes to show that even the professionals can miss things that can lead to life and death decisions of their patients.
This led me to consider how often our friends and family tell us things that have far more meaning than the words that they use. How often when we ask "How are you?" and get the patented "fine" and then we leave it at that. The fact that people cannot always express how they truly feel is something that we should all bare in mind as people, not simply as professionals. Ask the follow up question, observe the body language notice the tone all these things can be an indication of the true mental state of the person that you are talking to. People sometimes simply need to be heard and to hear another person is a gift that we can all afford to give.